Well I played this app a year before, thought it was too difficult and stupid, so deleted. But then I still downloaded again and play a few time to time because this app keep coming back up on the recommended after so long with great ratings, and doesn't ask for permissions.
Finally getting pass the Goo, and to get the Warrior's Tome of Mastery, things went much better; per say, very exciteful for the good run anticipation. I started to find threads that can help me beat the game. But not much pages of reading later, I realize that many information are out-dated/out-versioned. Most were on v1.7.?, whereas it is v1.9.1 right now. Plus most players seem to be playing Shattered PD, not the original.
I want to beat this game on its sole originality. Not the modded versions. It seem to me that the most who remain in this forum are mod-devs; Not much new comments/threads being made in the pages, mostly minor mod related threads going on. It appears I'm a bit late to the party huh.
But it appears many of you are still active here, and I want you to help me beat the game, if you will.
I went as far down to Dept 23 as Level 20 Gladiator with:
Stunning glaive+1, plate armor +4 that I used Amor kit on, broken Ring of Accuracy +2, broken Ring of Detection +2,  Wand of Lightning +2, Want of Poison +2.
Might have used SoU unwisely..distributed onto three weapons..
Died to evil eye with some stupid mistake I think; however was low on healing potion.
Reading through King of Dwarves allowed me to beat it easily.
Ran through the area to kill the King, and didn't know about the Ambitious imp quest.
And.. my current game is as shown (Lv16, Str18, Berserker):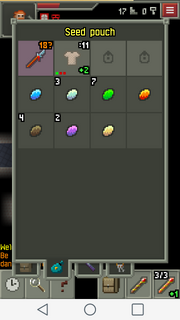 Farming for healing potion on Dept 7 really helped.
I managed to stay hold up fairly with an broken sword that did 9(?) damage (to save the SoU), knucklebuster that I accidentally sold along with, after farming healing potions. And, been swapping chainmails and then upgrade and enchant Multiplicity until I got the non-cursed plate armor.
I had no inventory, so I used the enchant scroll on the plate armor and got the Anti-entropy glyph (before I got the glaive). Far back below around other Depths, I also dropped less important at the moment items such as 1 toxic gas&1 paralytic potion here and there. Poison potion location was beaconed, but arrived farther on next shop where I needed to use it again for potion farming. (thought it was too far to walk back)
(Previously on other game run, Depth with bridges, I was trapped by golems so thought it is very important to keep levitation potion..I have plenty bombs and seed of earthroot anyway.)
Accidentally sold knucklebuster thinking that great loot of Venomous battleaxe will hold... (forgot about the dwarf monk)
I have..
Potions: 14 healing, 4 mind vision, 5 levitation, 1 liquid flame.
Scrolls: 2 magic mappings, 2 upgrade, 2 identity, 1 lullaby
Wands: fireball +1, disintegration
and rest as shown.
I have other kind of scrolls dropped on previous shop that I thought was less important (beacon set); no scrollholder :(
Question:
1. I've read that I can farm potion of healing at Depth 16*. But I don't know what the best weapon/armor spec is for the Dwarven Metropolis. What is the minimum recommended absoption&damage needed? None of the pages mention this specifically. Though I did read that I should have like +5 armor&weapon by the time I go to King of Dwarves.
*Stage 4: The Dwarven Metropolis
2a. Since I don't have a knucklebuster, should I prioritize more on the weapon upgrade than the armor, in order to kill it off with first hit? I'm sure I'd need to face lot of Dwarf Monks/Golems for Ambitious imp quest. I've already killed one Dwarf Monk easily, by using fireball and surprise attack at the door (prob with good luck hit). I'm more worried about the Golems; I've never killed one, and they definitely don't run slower than me! Most likely our Warrior weapons are at ready.. 2b. So what spec would you recommend to do the Imp quest to kill Golems?
3. How should I manage degradables? I did not upgrade the battleaxe so I can continuously use its venomous effect. But around the Depth I am in, I should spec up my gears. What if I don't loot anymore item to fix from degredation? That is the struggle I always had, and believe many players face.