This mod emulates totally the 1.9.1 version of Original PD (stated explicitly in-game) in its gameplay but replaces its graphics with ASCII characters (see screenshot below), most probably as a tribute to the old roguelikes which had this visual interface. Neither the name of developer or the release date are known about it.
Apart from the major visual difference, due to the fact that it is based on the directly previous from the current version it has two other somewhat important differences from Original PD in its game features:
Same wands don't merge.
The Berserker perk: "The more enemies surrounding the Berserker, the faster he performs his attacks" is missing.
(there are a few more than these listed above and for a fuller list of the additions and changes of version 1.9.1 and final 1.9.2 you can visit this link)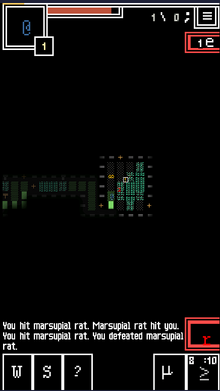 Community content is available under
CC-BY-SA
unless otherwise noted.