Description
Edit
| | | |
| --- | --- | --- |
| | | |
| | Weightstone | |
| | Using a weightstone, you can balance your melee weapon to increase its speed or accuracy. | |
| | | |
A Weightstone can be used to increase either a melee weapon's (or boomerang's) speed or accuracy but not both (even with two Weightstones). If another Weightstone is used on an already-balanced weapon, the previous balance is removed, and the new balance is applied. If speed is chosen, the weapon's delay is multiplied by 0.6 (40 % faster). If accuracy is chosen, the weapon's accuracy is multiplied by 1.5 (50 % more accurate).
Applying a Weightstone to any weapon will reset its degradation to perfect condition. With multiple Weightstones, this can be done more than once to the same weapon.
This item can be used to offset the Spear's Slow status, making the Spear a viable melee weapon in the early stages.
This item can be used on the Glaive to increase its speed, giving the Gladiator and the Freerunner a stronger-scaling, Fast, Tier-5 melee weapon, to use towards the later stages of the dungeon.
If you intend to balance a weapon that you intend to throw into a Well of Transmutation, wait until after you've thrown it into the well to balance it. Doing so beforehand will undo the balance that's been applied to the weapon.
This item can only be purchased at each Shop, except for the last Shop - depth 21, giving a total of 3 Weightstones per game.
Using the Weightstone does not remove any magical enchantments, or enhancements, to a weapon.
Each weapon can only be balanced for speed or accuracy and will be changed to the other with a second Weightstone but can't have both at the same time.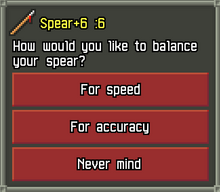 Community content is available under
CC-BY-SA
unless otherwise noted.